support & aftercare
We go further to ensure that the most indepth hearing assessment as been carried out to give you peace of mind and allow us to be able to offer you a successful rehabilitation and the right hearing aids for your particular hearing loss.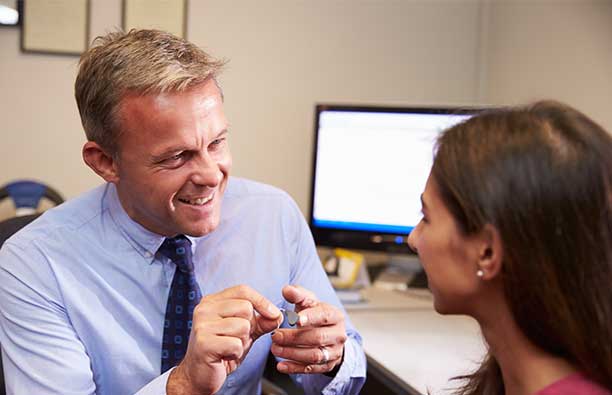 our promise
Everyone who receives one our hearing aids benefits from the RG Hearing Promise.  Each person is an individual and you are treated as an individual.
We offer Lifetime aftercare for you.  Our hearing aids come with either 2 or 5 year warranty if cared for well with our support can last up to 15 years.  But we will care for your hearing need for your lifetime, you will have a chief audiologist personal care advice and support.
batteries
Hearing aid batteries of 3 years are given on the day of fitting however the choice is given to the patient to purchase more hearing aid batteries, these hearing aid batteries have a shelf life of many years and are not activated until the plastic tab is peeled from the back of each battery.  These batteries are supplied from leading hearing aid manufactures and are £4.50 per pack for 6 cell batteries.
You do not have to be a RG Hearing patient – all are welcome to save.
There are four popular hearing aid batteries. They are often known by their numbers, colours, or both. The different battery sizes are:
– 675 [blue]
– 312 [brown]
– 13 [orange]
– 10 [yellow]
Minimum order 10 packs (60 Cells)
£45.00
Postage is included

hearing aids
It's vital that you find the right hearing aid for your lifestyle, hearing loss and needs.  From listening to you and carrying out in-depth tests we will be able to guide you to find the hearing aids that will help give you the best possible results.
see our range of hearing aids
Hearing Loss
Hearing impairments affect millions of people in many different ways.
We're here to find the solution that's right for you.
find out more about hearing loss
hearing tests
You've probably got lots of questions about what's involved when you have a hearing test. We can help you every step of the way.  Using in-depth tests, your audiologist can identify how and where the damage of your auditory system has progressed and how this has had on your ability to hear.
A full explanation of the results to all you to understand the nature of your hearing difficulties and how they are affecting you.  And a demonstration of the hearing aid will be offered to you.
find out about hearing tests